How much is just ONE new client worth to your business?
This online course focuses on how to build and develop professional relationships that educate your existing customers and contacts to send you high-quality introductions and referrals. When you receive more in-bound enquiries, a higher proportion of your time can be spent on billable work and talking with people who have a business need, and actually want to talk to you. This professionally produced course by a former BBC presenter will re-invigorate and inspire you with a refreshing new approach to professional selling.
Who will benefit most from this course
Of particular relevance to Consultants, Surveyors, Engineers, Wealth Managers, Accountants, Bankers, Lawyers and every type of organisation that sells the expertise of its people.
It's for you if you're a …
Battle-weary business development professional who wants new ideas to attract more of the right type of client

A professional who has to sell the services of your firm, but don't feel very comfortable about being a 'salesperson'

A sales manager who needs to inspire and motivate your sales teams with a new approach to professional selling

A forward-thinking, ambitious young professional who realises you need to acquire these new skills if you are going to progress in your career. Share this info with your firm.
Because it's online, you can learn today and apply it tomorrow.
Specifically for young professionals, watch this life-changing and career-enhancing video by course leader Roy Sheppard
When is the best time to plant a 'fruit tree'?
Company-wide licences available.
Company-wide licences available. Please get in touch to discuss our pricing schedules for company-wide availability – on this website, or on your own Learning Platform. Email: Info [@} PeoplePortfolio.com.
Cannot recommend highly enough

Mark Nicholls

Real confidence booster and now I have the goal of implementing my action plan.

Real confidence booster and now I have the goal of implementing my action plan.

Read Less
Go Bespoke
Not only that, working with your L&D or training team we can also add NEW professionally recorded learning content that addresses the specific business development needs of your organisation. For example we can include video interviews with your key people, success stories, case studies and video testimonials from your existing clients. Even a downloadable podcast to share internally or externally. We can help you. Take our challenge – send us any one page training script and we'll show you what we can do with it and how quickly it can be turned around. Email: Info [@} PeoplePortfolio.com
Testimonial
'I have read all the books and attended the seminars but this course is absolutely fantastic. It cuts through to a deeper level of understanding of how to ask for and obtain high-quality introductions. The techniques are simple to understand and easy to deploy in your day-to-day business life. The first referral I have been given since attending this online course is the MD of a national company. I would recommend the course to newcomers and old timers alike. Everyone will benefit.' Mark Woods, MD, Watermark Wealth Management
We've found that a high proportion of professionals hate the idea of selling themselves.
But it doesn't have to be like that. You really don't need to feel that way when you adopt what you will learn from this course. We will show you how to make it easy for your delighted clients and fans to send high-paying clients to you.
So, for a moment, think of yourself as a 'buyer'. You have a need. Perhaps a business problem that needs someone with expertise you don't have. How do you choose experts?
Do you spend days or weeks researching your options or are you like most very busy people – you go to your network of trusted contacts and ask who they would recommend (and why). May be you'd talk to quite a few people for their advice. What if the name of the same expert kept coming up? You'd probably contact them, wouldn't you? You'd even want them to turn out to be the person you hire. Why? Because you trust the judgement of the people who recommended them and you simply don't have the time to find someone else who you don't know or trust. This is how busy people buy in today's hyper-competitive world. Your business or firm needs to have a system that encourages the maximum number of high-quality referrals and then reassures those referrals that their search is over.
What if YOU were the person who was being recommended by trusted members of your network? Well, you can be.
This online course "How to Attract More Quality Clients Discreetly - without Selling" shows you precisely how to become someone who others will CHOOSE to recommend and refer. And the best news is – referrals cost nothing (or next to nothing), and almost everyone who contacts you actually has a need for your services and wants you to be the person they engage. Because this course is online, you can study from a world-class expert on the topic at whatever time of day or night works best for you, without ever having to leave your business to attend a classroom based course in another city or country. So if you'd like to learn how to increase the number and quality of referrals you receive from trusted members of your network and turn them into paying clients, enrol on this video-based online course today.
"Having attended Roy's seminar a number of years ago, my mind was opened to a new way of doing things, a new way of building lasting relationships and attracting new clients. The changed behaviors have served me and our business well over the years with better quality relationships, new clients and improved revenues. Highly recommended!" Chris Kane, Litigation Partner, Royds Withy King
British MD Paul Naylon reflects on completing this course
This was the first time Paul had taken an online course. Here he shares his experiences and gives his verdict.
What proportion of your average week is devoted to business development?
The more senior you become, the higher it needs to be. This course will help you decide where your focus will generate the best results. For younger, ambitious professionals: if you want to get noticed in your firm, this course will help you develop a reputation for being a 'rainmaker'. Think of it as career development. Why? Because it will.
A clear understanding of how to best position your firm to attract more high-quality referrals and recommendations

A 'system' for encouraging delighted clients to recommend you

Knowing what to ask for, what to say, when to say it and when NOT to say it!

How to create 'assets' that reinforce and reassure existing and future clients that you are worthy of being referred

And all in a low-key, high-effective and professional manner.
1

Chapter #1: Welcome to this Referral Selling online course!

2

Chapter #2. Your future network as the foundation for business success.

Why you need to feed and grow your 'career fruit tree'.

What you can learn from this networking story

Meet Greet & Prosper eBook for Android devices

Meet Greet & Prosper eBook for Kindle devices

3

Chapter #3 : Download this Inspiring Podcast

Download and listen to this audio podcast containing dozens of random referral generating ideas

What were the least and most useful ideas from this podcast?

Download the audio transcript

4

Chapter #4- Going back to basics BEFORE you actively apply what's in this course

Understanding the link between your reputation and the referral flow

Why you need to design your future reputation

5

Chapter #5 - A NEW and FRESH approach to client testimonials

Introduction to this fresh approach to testimonials

Testimonials - the difference between the good and the bad

What happened when Aardman Animation agreed to a video testimonial

Step-by-step guide to a strategic testimonial gathering system

How (and why you need) to ask for specific testimonials

A brief summary on using testimonials

6

Chapter #6 - Referrals Offering and Asking

This pdf contains each of the scripts for this "Referrals Conversations" module of the course. And has been included to help you follow the steps more closely.

Referral Conversations - Introduction

Develop a precise client profile

Your first referral related conversations

Planting referral seeds

When to ask for referrals

How to ask for referrals

How to contact the referral

Before you contact the referral

After your initial contact

After the sale

What further questions do you have about the referral process?

7

Chapter #7 - How to raise your profile in sophisticated ways to increase the referral flow

Why giving talks is worthy of consideration - even if you're an introvert

8

Chapter #8 - Using technology to create referral enhancing assets

Creating inexpensive quality video - introduction

Advice from a professional videographer on how to use your smartphone to create professional videos

Additional filming insights and tips from Roy

Roy shares how to brief an interviewee just before you start recording in order to help them give a great performance.

9

Chapter #9: Harnessing the enormous power of LinkedIn to generate referrals

Greg Cooper sharing his deep and extensive knowledge about using LinkedIn to generate referrals.s

Greg Cooper answers submitted questions about LinkedIn

What further questions do you have about using LinkedIn to generate more referrals?

10

Chapter #10. Some final words and next steps

Before you go...

Some final thoughts

Final words from Roy
If you are an honest, ethical professional with real expertise in your field who applies what you learn in this course - we GUARANTEE you will attract new clients which will pay for this course many times over. Or we'll give you your money back. The course fee includes full lifetime access - including updates.
A Personal Message from Roy Sheppard
"You have almost certainly landed on this web page because of a recommendation by a trusted business friend or client. I practice what I preach, and as you'll hear within the course, I owe a very high proportion of my own business success to the lessons you will learn from this course. Because they work so spectacularly well! And they can work for you and your business contacts too. Therefore, please feel free to share this web page. You don't even have to endorse it - just get in touch with each person and say "I saw this and thought of you. You might find it interesting." Roy Sheppard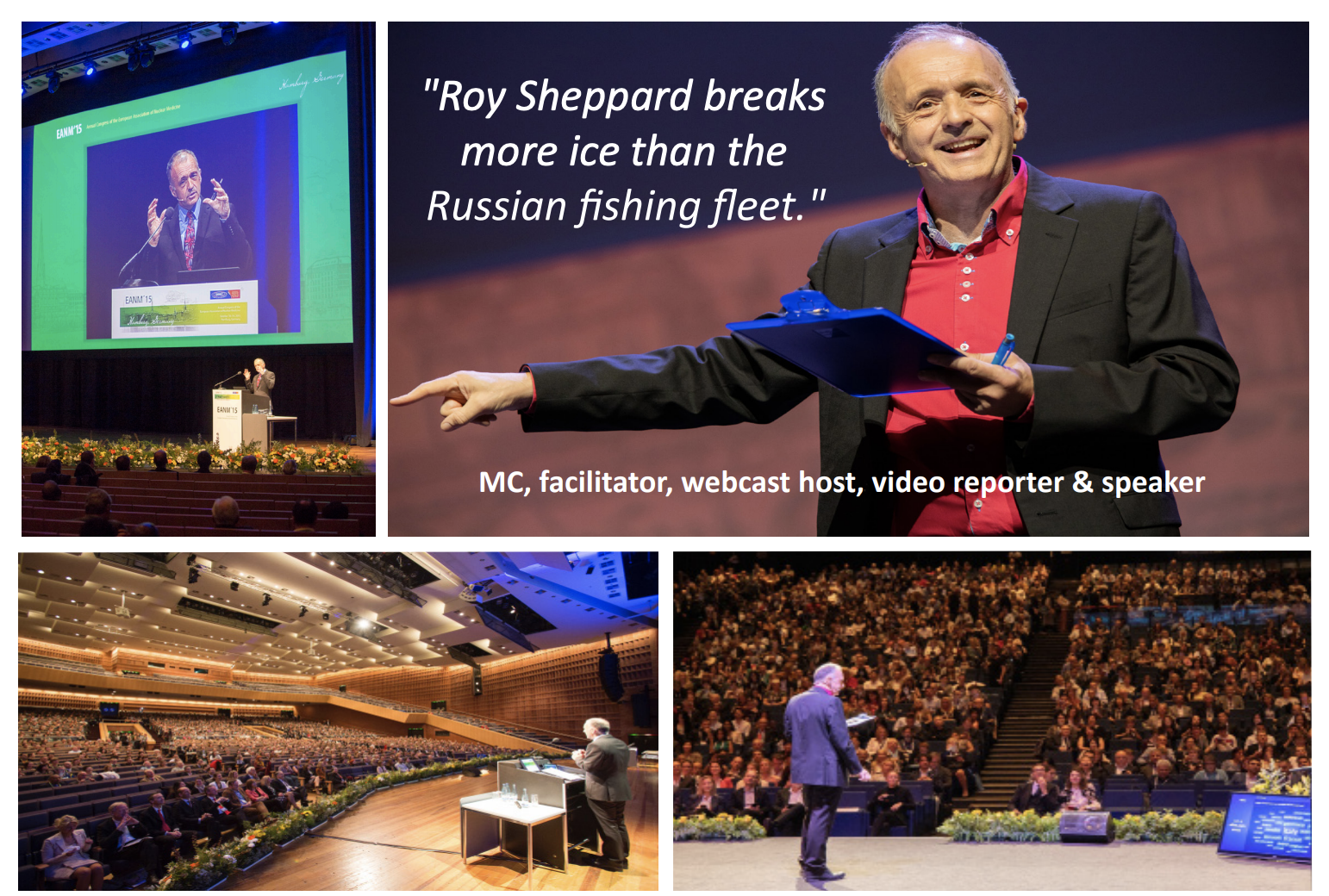 The best-selling author of Rapid Result Referrals and Meet Greet & Prosper  (available as an eBook from within the course). Over the last 20 years Roy has trained tens of thousands of executives and sales people on how to build authentic trust and rapport in order to develop successful careers, business opportunities and high-quality referrals. Visiting lecturer at  Cranfield and Henley Business Schools on their full-time MBA courses. For many years he delivered countless public business development seminars as well as for international corporations such as Barclays, KPMG, HSBC, Clydesdale Bank, Smith & Nephew, Zimmer Biomet and Oakland Consulting. Roy also teaches presentation skills, professional impact and charisma to executives and university professors. Much of his expertise was developed during a long career as a freelance BBC reporter, interviewer and producer which depended on his ability to build key relationships. Today he works as a virtual and f2f conference producer and Emcee advising clients who stage multi-million dollar events.
Extremely busy medical researchers, PhD students and doctors choosing to attend one of Roy's regular lunchtime 'personal impact' and career development lectures.